AUN Academy (Elementary) celebrated their 10th graduation ceremony/prize-giving day for the class of 2017 at the Community Hall of the school
Seventy-three pupils graduated to new classes: those in Playgroup Class moved to Kindergarten (KG), from Kindergarten to Grade 1, and Grade 5 to secondary school.
The Executive Governor of Adamawa State, His Excellency Muhammad Umaru Jibrilla, graced the event with members of his executive council, including his deputy, Engr. Martins Babale.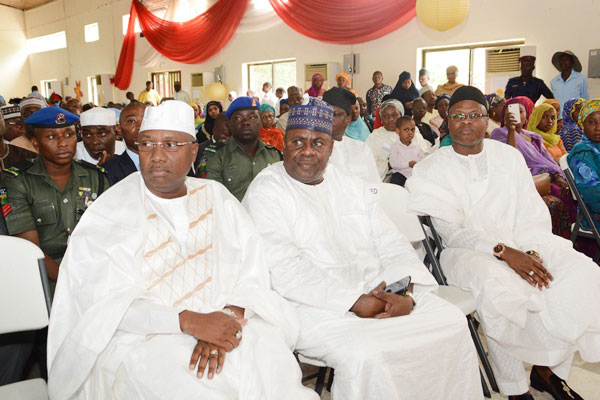 Executive Director of the AUN Academy (Elementary) Mrs. Nkem Uzowulu congratulated the pupils on their success. Recognizing the role AUN has played in grooming them, she said the school is confident that it has provided the students with a solid foundation.
Mrs. Uzowulu exhorted her students:  "There is no shortcut to success and excellence except through hard work.  Hard work doesn't kill but brings out the best in you."
Mrs. Elizabeth Raymond, Director of AUN Academy (Elementary), also spoke to the pupils. "You have done an amazing work and we celebrate you. A lot of character change has been built in you and you have acquired the academic skills to be the best.  Ensure therefore that you are good ambassadors of AUN Academy."
The children added color to the occasion with their many presentations.  These included a cultural dance display by the three major ethnic groups in Nigeria, Hausa, Igbo, and Yoruba. 
Before their presentation, the KG 3 pupils thanked their parents and teachers for their role in their success.  "Learning would not have been possible without your love and care," they said.
Spicing up the event was a debate between Grades 3 & 4 pupils: "Crude Oil, Blessing or Curse."
Obviously impressed, Mrs. Uzowulu described it as "Thought-provoking."
All six pupils who participated in the debate were very articulate, poised, and good in their delivery.
Awards ranging from academic excellence and citizenship to the most improved pupil were presented to deserving pupils.
Ibrahim Dabo Harden emerged the overall best graduating pupil and gave the valedictory speech.  Expressing his joy, he said, "I feel that I have achieved something bigger than I used to."  He said the academy has instilled in him confidence compared to when he first joined the school as a little boy five years ago.  His father, Mr. Mohamadou Dabo of the Community Service office, described his son as hard-working, and that the honor of being the best student would inspire his younger brother.
Mr. Ebube Nwokoma, who received the overall second position, said AUN has greatly contributed to his life, both academically and socially.
AUN